Peace and tranquility run a close second to a friendliness in making Water's Edge Family Campground a special place. A day at the beach may include watching a family of water fowl glide across the wind-ruffled lake.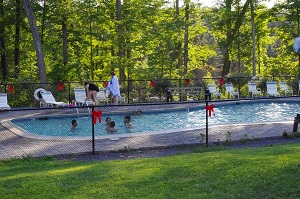 Among the Water's Edge facilities is a beautiful 30' X 50' swimming pool, sure to become a favorite place to relax and get some sun.

Water's Edge Family Campground in Lebanon, Connecticut has varieties of bird life including orioles and hummingbirds. An almost constant breeze caresses the lake, cooling the shore as much as 15 degrees, enhancing the aura of serenity which permeates the camp.

Large bass, between 6 & 7 pounds, have been fished from the lake. The fish breeding pond is an excellent vantage point from which to watch ducks and geese and children feeding the water fowl. Almost every Saturday in season, children are taught crafts in our large recreation hall: how to make beaded necklaces, sand art, keychains and more.

Friendliness, caring and consideration among campers receives high praise.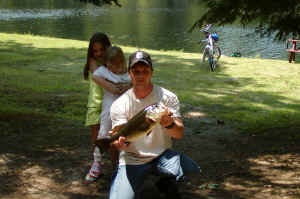 Seasonal campers call Water's Edge their "home away from home"; Most returning year after year. The 98-acre campground with a 10-acre lake is a place to unwind whether socializing or spending a quiet evening alone. Friendly and courteous people make Water's Edge Family Campground unique.

Caring and consideration among campers as well as pride and respect for their campsites have high priority, made evident by campers' neatness, improvements and beautifications of their sites. Highly praised for cleanliness, Water's Edge showers and toilets are kept spotless.

Activities at Water's Edge appeal to all age groups. Days can be spent canoeing or strolling around the lake; evenings, visiting and sharing campfires with friends. Free Internet Wi-fi provides a way for campers to share their experiences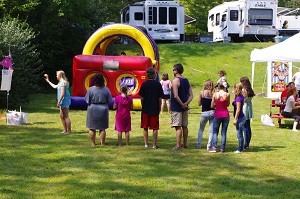 immediately with family and friends. Special events, both planned and unplanned, happen often at camp. Campers who fish and swim appreciate the purity of the lake and strive to maintain it.

Many of the camp's sites are spacious. Campers themselves have made a tremendous contribution to the success of the camp through their caring and suggestions.

As the sun sinks to the treeline, the last rays spike across the lawns and decks behind the beach, and the chirping of birds stills for a moment. A flock of ducks land for their evening swim. Children feed them bits of bread. The promise of a sunny day brushes the clouds with pink, and cast a glow upon the darkening water. A bullfrog croaks an evening song. It is time to light the campfire and contemplate the joy of camping at Water's Edge Family Campground.


---